Jeff Nisbet
Biography
Jeff Nisbet was born in Edinburgh, Scotland, and lived there until he was 11 years old, when he emigrated to the United States. Having been happily married to his best friend for 45 years, Jeff has two fine adult children and two granddaughters—the apples of their grandfather's eye. Nearly 20 years ago, while researching his family's Scottish roots, Jeff discovered that one of the historical luminaries of the Nisbet clan had been the 11th Grand Master of Scottish Freemasonry. In the years since, Jeff has researched numerous sources about Scottish history, the part the Freemasons played in it, and, by a much-disputed association, the mysterious medieval order of warrior monks known as the Knights Templar. Jeff is presently writing a book about Rosslyn Chapel, the tiny Scottish church made much of in Dan Brown's blockbuster novel, The Da Vinci Code, and the occult symbolism to be found in its architectural fabric. In articles Jeff has written over the years one common thread as emerged– that many of the ancient tales we now call myths are rooted in fact, and that much of the history we learn in school is an embroidery of half truths meant to conceal, among other things, the subtexts that the myths were created to eventually reveal. Jeff's articles have been published in Atlantis Rising, Duat, the Journal of the Rennes Alchemist, and the Temple Booklet. Also Jeff's work has been translated for Italy's Hera, Graal, and Fenix magazines, and Holland's Frontier magazine. Fourteen of Jeff's early articles can be read at www.mythomorph.com, and he can be contacted via that site's "About the Author" page.
Where to find Jeff Nisbet online
Books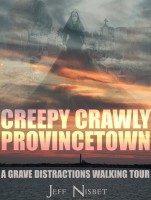 Creepy Crawly Provincetown: A Grave Distractions Walking Tour
by

Jeff Nisbet
Are you planning a trip to Provincetown, Massachusetts any time soon and looking to do an extraordinary way to remember your vacation? We've got you covered. Creepy Crawly Provincetown: A Grave Distractions Walking Tour is a hauntingly delightful guidebook to 22 different sites in and around Provincetown that have long been known by locals as being visited by ghosts.
Jeff Nisbet's tag cloud