Jennifer Cleary
Biography
Jennifer Cleary is a rising author of erotica and fiction from New York. After growing up in the suburbs of Pennsylvania, she moved to New York City to where she graduated college for writing and literature. Cleary lived in the city for ten years, but found her home and tranquility in Upstate New York. She finds time while exploring and hiking to brainstorm about writing. When she wanted to study something more than writing, she joined free online psychology courses and read works on the psychology of sex. Her dreams are to give readers a steamy experience around a unique mystery, which was her inspiration to write Pain Management.
Where to find Jennifer Cleary online
Books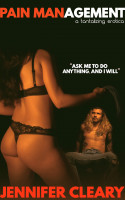 Pain Management
by

Jennifer Cleary
A marriage counselor wiped his memory clean of his past but tries to recover it through psychology sessions with his coworker --and sexual fantasies. Meanwhile his secretary daydreams about dominating him in bed --but when she discovers he may have murderous intentions she aims to learn his secrets.
Jennifer Cleary's tag cloud