Jeremiah St. James
Biography
St. James was born in Arkansas and raised in a slightly privileged Christian household. He reports that he thought that he had accepted Christ that he eventually lost his faith. He went upon a worldwide journey of religious and personal self discovery. He received instruction from Buddhist in Japan, studied at Synagogues and visited remote regions where superstition still reigns. He spent a large amount of time as an atheist. In that time he noticed that most Christians really didn't understand how atheists really thought and had no clue how to engage them. He found that unfortunate he would have spent a lot less time unsaved had more Christians known how to speak with him sooner. After completing graduate studies in Education he decided it was time to research educating atheists about Christ. Convert Atheists Now is his first researched guide on the subject. Presently he travels the world with his wife and young daughter writing, and spreading the Good News. He doesn't know where exactly he would call home but spends most of his time in Georgia, Guatemala and Vietnam.
Where to find Jeremiah St. James online
Books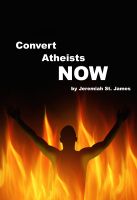 Convert Atheists Now
by

Jeremiah St. James
Convert Atheists Now is a research driven guide to converting atheists. Readers will learn about the different types of atheists, logic fallacies to avoid, arguments proven not to work, and the best strategy for getting atheists into Church and putting their faith in Christ.
Jeremiah St. James' tag cloud