Jeremy Gordon
Biography
Techie, trekker (trekkie!), geek, nerd and dork all in one. When not spending his days fixing other people's computer problems, you can find him playing video games or trying to win the Internet. Equally fond of Texas and New York, the voices in his head argue about which path down yellow woods is best. He likes cheese. He REALLY likes cheese. Someday he will own robots that make cheese for him.
Where to find Jeremy Gordon online
Books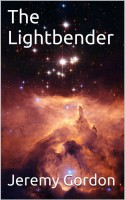 The Lightbender
by

Jeremy Gordon
Fifteen-year-old Zophar Lightbender is the first kid in history to travel to outer space – but tragedy strikes during the mission, and he sees his parents for the last time. He wakes in a futuristic tower filled with talking robots, holographic screens, and mind-boggling technologies. He meets new allies and piece together a sinister plot to dominate the lives of those he cares about.
Jeremy Gordon's tag cloud