Jerry Appleton
Biography
Jerry Appleton is a retired Canadian broadcaster having served in both the creative and executive segments of the industry for over four decades. He was part of the original Global Television Network launch team in Canada and worked with Rogers Broadcasting Ltd. Jerry started his career at CHCH-TV (Hamilton, Ontario) where he worked as a studio director involved in such television classics as Don Messer's Jubilee, The Hilarious House of Frightenstein and Party Game with Jack Duffy, Dinah Christie and funny-man, Billy Van. Jerry was also the founding-president of Venture Entertainment Group - a Toronto-based production-distribution company.
Over the years, he took on the role of Executive Producer of a number of television projects, including the first years of the popular SCTV comedy series, the Jack Silberman/Gillian Darling-produced Island of Whales documentary narrated by Mr. Gregory Peck and countless other television projects. He also served as Executive Producer on behalf of Global with Gladys Rackmil on the award-winning Nederlander Productions-Global made-for-tv movie, A Case of Libel, starring Ed Asner, Daniel J Travanti and Gordon Pinsent. During the early 1980's, Monty Hall convinced Jerry to participate in the Variety Club of America and, with great pride, he executive produced over 20 annual telethons raising countless millions for special children.
Jerry currently shares his time between two homes – Ontario, Canada and Paradise Village near Puerto Vallarta, Mexico.
Books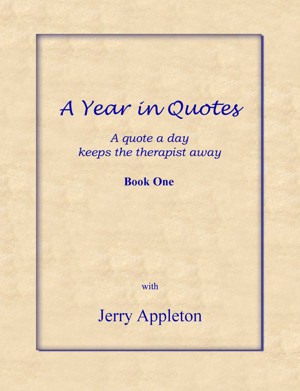 A Year in Quotes - Book One
by

Jerry Appleton
We have all been drawn to the wise and witty quotes of the clever minds from the many centuries. Mark Twain and Will Rogers have made us laugh and giggle while Aristotle and Abraham Lincoln have made us stop and reflect on life. A Year in Quotes - Book One is a collection of 366 quotes and mini-biographies of the quote authors gathered in a virtual calendar.
Jerry Appleton's tag cloud