Jerry Mangan
Biography
I have educational backgrounds in the fields of Psychology, Counseling, and Metaphysics. The latter field caught my interest some twenty-five years ago, sending me on a quest for the spiritual meaning of my life. "Ensouled" captures elements of that journey, the discovery of my soul, Edward, and our ensuing, telepathic conversations concerning our intimately shared existence.
Smashwords Interview
Books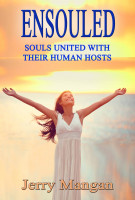 Ensouled (Souls United With Their Human Hosts)
by

Jerry Mangan
This is the story of a man's search for the purpose of his life. He is given his soul's name, "Edward," by the renowned Psychic, Sylvia Browne. Soon afterwards, Mr. Mangan achieves telepathic communication with Edward in the process of creating this book. What follows is the courageous, and unexpectedly spiritually-blueprinted tale, of their mutually shared lives.
Jerry Mangan's tag cloud