James Hunt
Biography
Author of "RoboChildren: The Tussin Generation," the infamous, unanimously hated underground novel that makes a spectacle of stupid kids with stupid drugs. Author of "You Only Live Once," the most unread book in the history of books. Author of "Is This It," a collection of short stories of madness and mayhem.
Where to find James Hunt online
Videos
You Only Live Once: Book Trailer 2013
Book trailer.
Books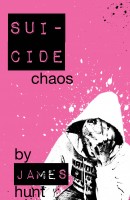 Suicide Chaos
by

James Hunt
This short collection of flash fiction spans the writing career of an unknown author. The stories range from mellow punk rock to all-out war. Either way, your eyes will most likely bleed. The current counterculture is a sad sack of shit. And so is this collection of stories by renowned scam artist James Hunt, who supposedly committed suicide some time ago...
James Hunt's tag cloud