Jewel Tilden
Biography
Jewel Tilden (9/5/1919 to 9/8/2001) wrote nearly all her life. She wrote poetry, prose, plays, essays, devotionals, and short stories. She wrote humor and she wrote serious pieces. She was always writing something. She wrote for publication and she wrote for the enjoyment of the writing, itself. To hone her craft, she kept regular, detailed journals, or diaries, of her every day – the special event, and the mundane. All were fodder for her writing. She kept writing these diaries until she was too ill to do so anymore.
Books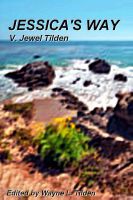 Jessica's Way
by

Jewel Tilden
Jessica's life is much more difficult than she thinks it ought to be. So much so that she is not always sure what is real.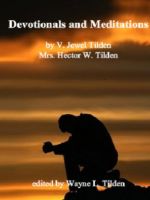 Devotionals and Meditations
by

Jewel Tilden
Twenty-five of V. Jewel Tilden's previously published short devotionals. She wrote all her life and always wrote from a Christian P.O.V.
Jewel Tilden's tag cloud