Jilliane Soriano
Biography
Aspiring author, editor and publisher; long-time self-publishing author.
Graduated with Bachelors Degree in Writing, with an Editing and Publishing minor.
Philippine-born, Australian-raised. Currently located in Alberta, Canada (possibly long-term).
Winter-lover. Avid reader. Wannabe traveler. Casual gamer.
Food enthusiast (with a strong sweet tooth and a passion for baked goods).
Books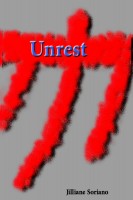 Unrest
by

Jilliane Soriano
A young woman, trapped in a totalitarian society, plans to escape, with the help of friends and other willing participants. It's the fight for freedom. Will they succeed?
Lure
by

Jilliane Soriano
The story of a young woman claiming to be a vigilante, who uses mind tricks and seduction to lure men into her traps... and their demise. Can it be called justice? Or is she too far past the line?
Jilliane Soriano's tag cloud