Jimmie Badgett
Charlotte Badgett - I served many years as a volunteer fire fighter on the CE-Bar Volunteer Department in Travis County, Texas and on the Dallas County Fire and Rescue Service. I served as a Fire Inspector for the Addison and Lewisville Fire Departments. I served as the Fire Marshal for Texas Woman's University and the Haltom City Fire Department. I was the only female Regional Fire Representative for the Federal Emergency Management Agency in Denton. I served the states of Arkansas, Louisiana, New Mexico Oklahoma, and Texas. I was an adjunct Instructor at El Centro College in Dallas I served as the Environmental/ Hazardous Materials coordinator for three agencies. I have an Associate of Arts Degree from Austin Community College and a Bachelor of Applied Science from St. Edwards University, both in Austin, Texas. I organized the International Association of Profession Women in the Fire Service.to provide networking among the few wome who were in the fire service and to assist those seeking employment in the fire service. I have been very active teaching classes to fire department personnel and the pirate sector. I enjoy reading novels, history, and religious books (for the past three years reading cancer related books); traveling; and restoring old fire trucks and cars
Jimmie Badgett- I was a Lieutenant on Abilene, Texas Fire Department and resigned to work for the Texas Commission on Fire Protection Personnel Standards and Education in Austin. I was later employed as the County Fire Marshal and Emergency Management Coordinator for Dallas County, Texas. While serving in this role, I started the County Fire Department, Dallas Area Household Waste Program, and the County Hazardous Materials Response Team. I retired and was employed by the Texas Division of Emergency Management. I responded to disasters for nine years providing state assistance. I have taught courses at four junior/community colleges and served over 30 years as an instructor at the Texas A & M Annual Fire School. I have an Associate of Arts Degree from Austin Community College, Bachelor of Arts Degree from Hardin Simmons University in Abilene, and a Masters of Public Administration from Southwest Texas State University in San Marcus, Texas I am a graduate of the Executive Fire Officers Program at the National Fire Academy. I served many years as an adjunct instructor for the National Fire Academy. I enjoy fishing, riding motorcycles and traveling.
We have been married 52 years and have two wonderful daughters. Christi is a pharmacist and Regina is a band director at a middle school in Frisco. Charlotte is a three year survivor of pancreatic cancer and Christi is a six year survivor of breast cancer. Charlotte and I have both served on International Fire Service Training Association (IFSTA) committees and assisted in writing and/or validating manuals written by and for the Emergency Services.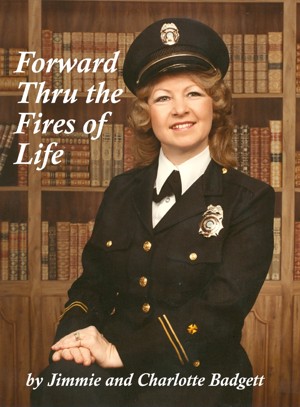 Forward Thru The Fires of Life
by

Jimmie Badgett
A factual, historical, educational, and comical book about our family life, careers in the fire service, emergency management and disaster response. It includes "lessons learned" as a safety guide in many types of situations. It contains poetry and prose. It covers the importance of Wills and Living Trust. Our intent was to share the humor in our lives and encourage the reader to do the same.