Jimmy Wilson
Biography
As a student of God's Word, my teaching seeks to share the insights that Holy Spirit has illuminated during my study of the Bible. My hope is that you will find the teaching easy to understand and that it will provide you with practical truth that you can apply to your life so that your relationship with our God will grow deeper. More than anything, though, it is my hope that you will find that the teaching is faithful to God's Word and that it accurately reflects His Truth. You can be sure that any error that you may find in these lessons are the product of this teacher rather than the inerrant Scripture that I hope to explain in my teaching. With that in mind, you should always take the approach that is attributed to the Bereans in Acts 17:11, where it says, "they received the word with great eagerness, examining the Scriptures daily to see whether these things were so". If you find the content of these lessons to be inconsistent with God's Word, I pray that the Holy Spirit will make that clear and guide you to walk in the Truth. If, however, you find that the lessons do, indeed, align with the Scripture, I pray that you will allow the Holy Spirit to guide you in applying the truth of these lessons to deepen your walk with Christ and help you to influence the world for Him.
Where to find Jimmy Wilson online
Books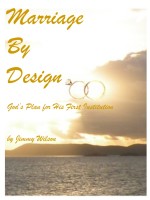 Marriage by Design
by

Jimmy Wilson
In Marriage by Design, a layman looks at the mystery of marriage from a uniquely simple perspective. The approach is to let God's Word speak regarding this most important and intimate institution. The goal is only to understand how our Heavenly Father intends for us to enjoy this relationship, Marriage by Design.
Jimmy Wilson's tag cloud