J.R. Brady
Biography
J.R. Brady is an author from Gary, Indiana. Growing up in a dangerous city he fell victim to peer pressure and became a product of his environment. However, with high hopes of changing his life and staying out of trouble, he began writing in his free time. He wrote songs, scripts, and books until he graduated high school and joined the U.S. Air Force. Fast forward to 2018 and he not only returned to writing but has decided to publish as well. With the birth of his daughter Skye, J.R. Brady has begun his journey as an author with his first character Skye Silver named after his daughter.
Where to find J.R. Brady online
Series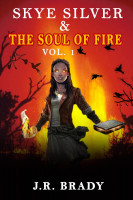 Skye Silver & The Demi-Gods
by

J.R. Brady
Skye Silver recently found out that she is a Demi-God! Follow her as she uncovers the truths behind who she truly is and the origins of her people.
Books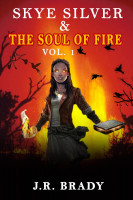 Skye Silver & The Soul of Fire Vol.1
by

J.R. Brady
Skye Silver was an ordinary young girl living a typically boring life like most humans. That is until she found out she was much more. Accompanied by her best friend they take a portal to the Land of Astral where she must travel across the hidden country to reach her home region and fight deadly battles along the journey. Follow her as she uncovers the scary truths of her people, her home as well
J.R. Brady's tag cloud