Rod Kluzki
Biography
Rod has a good command of several languages without anybody having ever heard him speak them, he claims to play multiple musical instruments although it is generally known he only owns them, and he loves to eat dumplings with both sugar and salt on them, despite those around him cringing at the thought. He likes to watch stars next to a billowing campfire but he has never spotted any larger, well-known star constellation himself.

About the time Led Zeppelin released Physical Graffiti, he was born in a destitute village without electricity and running water, somewhere on the border of two Eastern European countries. However, he pretends not to remember the name of the place, saying it was a long time ago: truthfully, it is from an irrational fear of stigmatisation and a self-seeking, cold-blooded, calculating attempt to conceal his true self.

Because he was too young, immature and stupid when the Iron Curtain was falling apart (he had to attend college then), he missed all the golden opportunities of making quick riches from wild, state-run privatisation schemes. It was too late when he finished college, and so he went to university.

After successfully graduating, in a futile attempt to make up for the lost time he travelled extensively, even visiting the United States of America and Bulgaria.

On his few existing portraits, he is deliberately depicted with a ridiculous hat and unnatural, ludicrous smile in the hope his friends and relatives will not recognise him.

He loves fog and freezing temperatures, which is why he now lives in Australia.

He also likes to write but he puts all the blame for not concocting anything meaningful on the constant lack of time.

He has just bought a new Parker fountain pen he jealously and obsessively shields from his environment, and selfishly never lends to his children.

He sometimes confuses words like election and erection.

He has so many email addresses that even if you wanted to write to him, he wouldn't be able to find your message.
Books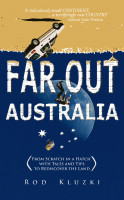 Far Out Australia - From Scratch in a Hatch
by

Rod Kluzki
"Ridiculously small CONTINENT, ... terrifyingly vast COUNTRY". How did the Land Down Under become Australia we know today? What obstacles do travelers need to dodge not to become suckers to mainstream commercial tourism? This low-key "guide" through space and time can answer any question big or small ... with hefty dose of cheeky sarcasm, Google maps, images, route & fuel estimates.
Rod Kluzki's tag cloud