Jo Husky
Biography
Jo Husky studied at Northeastern University, which served as the inspiration for her pen name. She has written various articles on high school and college life for RadicalParenting.com and AliveCampus.com. Her article "Setting Body Boundaries: No Means No" for RadicalParenting.com was also featured on the KidSafe Foundation website. Three of her articles for AliveCapus.com were also featured in the September issue of American Campus Magazine, a new publication launched in 2014: Being a Good Roommate," "Time Management: Top 5 Time Wasters," and "How to Not Make Friends in College." In the fiction realm, Jo has collaborated with three other students to create a 20-minute musical entitled That's The Spirit, a story about a girl who thinks she has died and resolves to live out the rest of her life as a ghost before finding out that she is, in fact, still alive. Jo's newest release But They Didn't Come Back was inspired by her love of mystery novels and her desire to branch out and write lengthier, fictional pieces.
Books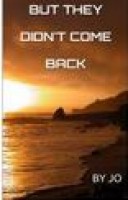 But They Didn't Come Back
by

Jo Husky
It started out as a fun weekend at the beach. But people don't just disappear. Did they run away, or were they kidnapped? Casey and Rob turn to the Rockford Police department, only to be duped. Now they are further than ever from the truth. With the whole Rockford Police Department under FBI investigation, it's up to Casey, Rob, and detective Jo to find the kids.
Jo Husky's tag cloud