Joan Uda
Biography
Joan Uda is a retired United Methodist Minister. She began her professional life as a teacher, then became an attorney, and at last answered her childhood call to ministry. She writes a weekly column, preaches, teaches and conducts workshops. She lives in Montana with her husband Lowell. They have four children and five grandchildren.
Books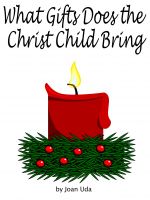 What Gifts Does the Christ Child Bring
by

Joan Uda
These twenty-three stories combine the joyous, hopeful, inspirational parts of Advent and Christmas with life's inevitable pain, grief and just plain everydayness. Some are funny, and all explore the deep meanings and spiritual loveliness of this most inspirational season. Joan Uda writes to show how our own lives and celebrations are illuminated by the life and death of Jesus Christ.
Joan Uda's tag cloud