Joanne deSimone
Biography
Joanne de Simone is an author, dramatist, and film historian. Two of her seven plays, The Suicide Angel, and Earthmen, are currently in film pre-production, and several one-acts have been produced in NYC theatre festivals. Joanne's, Judy's Dead, took first prize in the Writer's Digest 79th Annual Stage Play Competition. Ms. de Simone's full-length play, Olivia's Roses, debuted at NYC's Thespis Theater Festival in September 2015. Her film review column appeared in the Fire Island News from 1998-2003 and returned for the 2015 season. Joanne's work has been published in various magazines, publications, and film journals. She has written a children's book, The Metro Cats: Life in the Core of the Big Apple, and a young adult book, The Curious Plight of Milicent Wryght, both urban tales set in Manhattan. Joanne is a member of the Dramatists Guild, the English Speaking Union, the Shakespeare Guild, the Episcopal Actors Guild, the Drama League, is a board member of the Veronica Moscoso Foundation, and serves on the judging committee for the Hudson River Classics Showcase Theater Playwriting Competition.
Books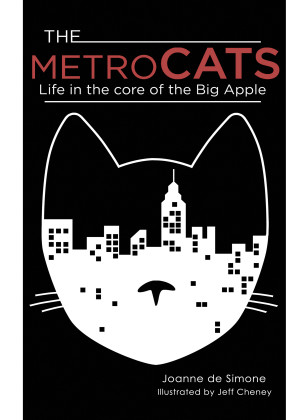 The Metro Cats: Life in the Core of the Big Apple
by

Joanne deSimone
Follow the adventures of a colony of cats living on the streets of New York City, as they face danger, find love, and reunite with long lost family in the Big Apple. Roaming the streets are the Scratches, a renegade band of antagonistic cats, recognized by their visible "battle scars," and always on the prowl for action. They aide the colonists when one of their own is taken by Animal Control.
Joanne deSimone's tag cloud