Joe Mason
Joe Mason is a husband and father of two living in Haymarket, Virginia. He is the Senior Vice President, Consumer Services of Intersections Inc. and the general manager of Identity Guard®, a nationally-recognized and award-winning identity protection service. Throughout his career, Joe has played a role in protecting the identities of millions of Americans. Prior to joining Intersections, Joe spent nearly a decade at Capital One, where he managed various consumer offerings as well as their identity protection services. While there, he obtained a patent and helped consumers understand the importance of protecting their personal information. Joe has a B.S. in Commerce from the University of Virginia and an M.B.A. from The College of William and Mary. This is his first book, and it is the first book ever written on the disturbing trend of child identity theft. Joe has been featured on CNN, Fox, CBS, ABC, HLN, and many other regional and national media outlets as an expert in identity theft protection.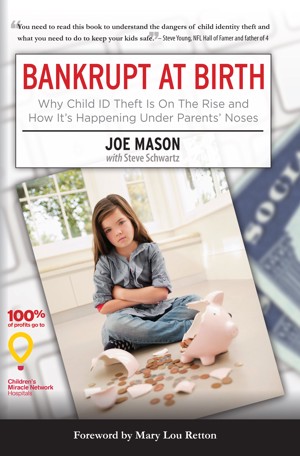 Bankrupt at Birth: Why Child Identity Theft Is On The Rise & How It's Happening Under Parents' Noses
by

Joe Mason
Child Identity Theft is the fastest growing form of ID theft and it's the one that's least understood. In Bankrupt at Birth, author Joe Mason uses stories and statistics to outline the problem of child identity theft and offers parents practical advice to protect their kids.