Joe Saotome
Biography
I am Joe Saotome (pronounced sow toe me) I consider myself a Joe of all trades, master of few. As far back as I can remember I have dreamed of being a published author of science fiction and fantasy novels. Inspired by Fred Perry, creator of the Gold Digger comic, in my youth I trained to become an independent comic artist. Sadly, due to a wrist injury that dream died. Over the years I continued to dream bold new worlds. Only recently have I had an opportunity take my first steps to achieving my dreams.
I was born and raised in the South West of Oklahoma. I have worked in many different fields and spent more than twenty years off and on working alongside my parents in the family Handy-Man business. As a child, my family would spend our summers camping in the nearby Wichita Mountains or camp our way across the country just explore and see the sights.
Authors who have influenced my dream include, but not limited to, Douglas Adams, Isaac Asimov, Robert A. Heinlein, Alan Dean Foster, Ray Bradbury, Piers Anthony, Robert Lynn Asprin, Fred Perry, Eric Larson, Simon R. Green, and Sir Arthur Conan Doyle.
Books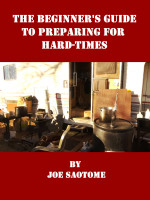 The Beginner's Guide to Preparing for Hard-Times
by

Joe Saotome
A Beginner's Guide to Hard-Times provides readers with both general and detailed information on how to prepare to survive natural disasters, unemployment, and/or finding yourself homeless. Each chapter provides project tasks, once complete the reader will have successfully built a foundation for survival.
Joe Saotome's tag cloud