Johannes Broos
Biography
Johannes Broos, a native of the Netherlands, is a former farmer and internationally operating businessman. He is happily married with three daughters, three sons-in-law, and four grandchildren. He and his family reside in South Africa. When he is not managing his own company, he enjoys nature and reading (with an emphasis on history) . Recently Johan has sensed a calling from the Lord that inspired him to write the book you are holding in your hands. About this new calling, Johan says, "I feel like a fountain with new ideas, and never in my life have I been so excited to do something for God's Kingdom by His guidance and inspiration." Indeed, he is working on two more books at this time.
Smashwords Interview
Books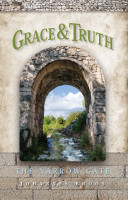 Grace & Truth: The Narrow Gate
by

Johannes Broos
Part 1 in the book describes the truth of God in Biblical teaching. Part 2 in the book elaborates about the plan of God's grace in Biblical history.
Johannes Broos' tag cloud