John Devlin
Biography
John Devlin was born in Liverpool,U.K. in 1934, and was 5 at the outbreak of WW11. he served for 3 years in the Royal Air Force, mostly in Malaya (as it was then), and returned to Britain to live in London Subsequently he spent 4 years in Thailand before finally settling in South Africa in 1966, where he still lives.
He has been married 3 times and has four sons. Some of these people even speak to him!
A multifarious career has, inter alia, included advertising and marketing, lecturing, text-book author and published poet, editing, proof-reading and copywriting, journalism, speech-writing and book-reviewing, He has owned a personnel consultancy, a hi-tech industrial coating company, a service station and a mini-chain of fruit and vegetable shops.Reversing the usual procedure, his last, pre-retirement employment was 7 years at University. For several years he read for Tape Aids for the Blind, and while in Bangkok, was restaurant critic for the leading English-language newspaper.
All this, and more, is recounted in a sardonically enthusiastic style that will attract and hold the reader.
Books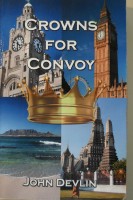 Crowns for Convoy
by

John Devlin
Recollections of an ad-man, journalist, lecturer, consultant, much more, the author looks back on a uniquely varied and peripatetic life, from 1934. Reversing the usual career chronology, his last employment before retiring was at University. Along the way he "collected" three wives and four sons, some of whom actually keep in contact with him. The narrative is eminently witty and entertaining.
John Devlin's tag cloud