John Khalkho
Biography
John Khalkho was born in a town with a small population. After joining a convent, the only English school in his town, John soon started to share his desks with the best minds the world has ever witnessed. And this saga continued thereafter. After graduating from a Jesuit college with a Bachelor's degree in Chemistry, John went on to do his Masters in Management from India's leading management Institute based in Mumbai. Having worked for more than a decade in Advertising, John finally decided to come to Australia to explore the land down under. Based in Sydney, John has been working in the education industry for more than 5 years and believes that there does not exist a more meaningful and noble profession than teaching and training. Empowering people with skills so that they can become knowledgeable, competitive and wise is the best thing you can do on planet earth. In the struggle for existence, people learn to survive but often fail to live. Today, life is taken a bit too seriously without any scope for fostering wit or humor. John believes that having a vision in life is absolutely mandatory but real visionaries enjoy the journey as much as the destination. After spending 4 years on the book, John makes his debut into the world of imagination manifested with the quill. And living his philosophy, he is determined to enjoy the journey and entertain the world.
Books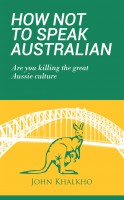 How Not To Speak Australian
by

John Khalkho
An oath will grant you a citizenship but to become an Australian in the true sense, you have to imbibe the values, the beliefs and more importantly the culture of the nation. When you stand for everything, you stand for nothing at all. Multiculturalism as the word denotes is a perfect example of such a case.
John Khalkho's tag cloud