John Kinsley
Publisher info
John Kinsley has spent more than 30 years in the financial
services industry in South Africa.
He initially qualified with commerce and legal degrees
with the intention of practising as an Advocate. However,
having been exposed to investment-type products as a legal
adviser within a major financial institution, he began to use
his legal and tax knowledge in the development of innovative
investment products. These products ultimately revolutionised
the local financial planning industry.
Over time he became increasingly involved in the investment
side of the industry, spending the last 15 years of
his career as head of the retail business for one of South
Africa's leading investment managers.
John has spoken regularly on many public platforms,
addressing financial advisers on a wide range of issues, including
the structuring of appropriate investment portfolios
and successful retirement planning.
Books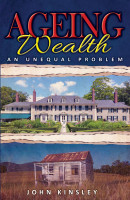 Ageing Wealth An Unequal Problem
by

John Kinsley
There are two broad economic challenges facing economies around the world today: the one is ageing demographics (particularly in established economies) and the other is inequality.
John Kinsley's tag cloud