John Patrick Martin
Biography
John Patrick Martin was born of Irish immigrant parents in New York City in 1939, partaking of their Irish culture, proudly. At age twelve his inspiration to become a foreign missionary carried him through 11 years of seminary to ordination in 1966 and a first assignment to Mexico. He dedicated himself to his priestly ministry including a variety of social and spiritual developmental activities until 1975. He then answered his leadership's invitation to join the new Bangladesh Unit for insertion, through Christian testimony, into the Muslim environment as brother and friend. Through the influence of Father Bede Griffiths, he became enamored of the many opportunities for living dialogue with believers of other religious traditions in South Asia. He relished the call to share the fruits of this rich life with folks in Mexico again for fifteen years, for more of the same as above, and at home through mission education programs, inter-religious forums, and his new career as a writer.
Books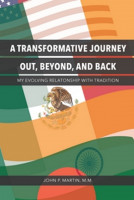 A Transformative Journey Out, Beyond, and Back: My Evolving Relationship with Tradition
by

John Patrick Martin
The author describes how he bucked his Irish-Catholic childhood Tradition and went on on a transformative journey as a Maryknoll missionary with cross-cultural and inter-religious ramification, into realms of spiritual growth beyond imagining. And a successful search for his Dad that marked his whole life. And back again to savor the joy of sharing these riches with one and all.
John Patrick Martin's tag cloud