John Quinata
Biography
About the Author

John Quinata founded Our Father's Grace Ministries in San Diego to share the love in his heart and the depth of his faith in God.

John has almost 20 years of experience teaching religious education with the San Diego Diocese, focusing on youth ministry. Now, by the grace and blessings he feels from God, John has expanded his uplifting spiritual message to embrace a much larger audience.

John understands that the word of God speaks to each person individually. Therefore, he wrote The "What" About Faith as a gateway to learning more about the connection between ourselves and God, and using the power of that connection to help us find our purpose to serve.

John stands apart from the crowd, preaching and living his faith while guiding others to recognize their own faiths as they're building their own personal relationships with God.
Books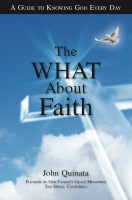 The "What" About Faith: A Guide to Knowing God Every Day
by

John Quinata
The "What" about Faith is a wonderful guide showing God is real in our lives and that saying "I believe," is not enough if you want to know Him. It's about having a relationship with God by how you live your life. Having faith is more than just something to believe in. Faith is the way you choose to live the word of God in your every day life.
John Quinata's tag cloud