John Summit
Biography
I am a granddad, husband and father, residing in Ohio. I have always enjoyed researching crime stories, especially those that make me ask myself why & how.

I have written several True Crime Books, each revealing the shocking stories of criminals and murderers.

I will continue to write thought provoking books on stories that I think readers will find interesting and hope that you will as well. I thank you, and my family thanks you for your support.
Books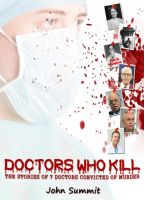 Doctors Who Kill: The Stories of 7 Doctors Convicted of Murder
by

John Summit
In his first true crime book, John Summit reveals the fascinating true stories of seven deadly doctors from the journals of history, who actually murdered family, friends and patients. You will gain insight into the minds of these insane doctors; some who were even classified as serial killers.
John Summit's tag cloud