John Thorp
Biography
In my childhood, brought up as a girl, I had a white West Highland terrier. My romps with the pup should have indicated my true sexual nature, as did my interest in the tool shed and car. My father understood but mother just thought me a tomboy who would outgrow it. She never knew of my later change, dying of cancer a year before.

My London school was evacuated in wartime, when women took over men's work and joined the forces. During those years sexual differences were of little consequence. After the war, however, when roles returned to normal, my life became increasingly unbearable.

In the late 1950s, Joan, then my only friend and love, saved me from suicide and helped me through private gender reassignment surgery. To avoid the British paparazzi, we emigrated to New Zealand and married. In Auckland, I was lecturer in chemistry at the University. Later I moved to the Department of Scientific and Industrial Research (DSIR) to start a Tribology Section, working on the science of friction, lubrication and wear.

In 1973 we moved to Wellington where I continued my research at DSIR's Physics and Engineering Division. When Joan developed heart trouble I retired at 55 years old, in 1982, to have some years together ( Joan being older than I) before the unthinkable happened.

We bought a 10 acre bush section in Coromandel, our favourite holiday location. The land rose steeply to a hill top, the harbour clearly visible from our cottage, located next door to Barry Brickell's famous pottery and tourist railway. Sadly, in 1989, Joan died of a stroke.

After several years alone, I joined a singles club and eventually, after many introductions, met Zella who gave me my second chance. We married in January 1995 and moved to a 5 bed-roomed house on half an acre, sited on a peninsula between the sea and Coromandel harbour, where we ran a Bed and Breakfast business for the next five years. In the year 2000, we sold the B and B and built a house overlooking the Firth, in Thames.

Here I joined the local Writers Group, published my autobiography 'A Change for Good' in 2006, and wrote the sequel 'Second Chance,' now published here as an E-book.
Books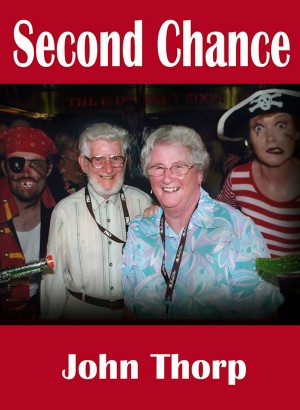 Second Chance
by

John Thorp
(4.00 from 1 review)
John's a (FtM) transgender man. In 1950s UK, prejudice about sex change was rife. Joan helped, through private surgery, Jo's change to John. Both emigrated to NZ, married, & lived happily until Joan's death in 1989. 'Second Chance' is the sequel, a new love story. John, now retired, married Zella, who won her own battles with depression and cancer. Anyone can have a second chance.
John Thorp's tag cloud