John Behan
Biography
Hi,
My name is John Behan. I live in Dublin Ireland. For the last several years I have written Poetry, Plays, short stories and a book.
The book Titled, A Lonely Soldier is based on the true experience's of a Private soldier who served in the Rhodesian Army and fought in that country's war against Robert Mugabe's Army of Liberation which fought against white minority rule and eventually won that civil war. From the ashes of destruction the world gained a new independent country called Zimbabwe.

I truly hope that any one who reads this book will enjoy it.

Yours Sincerely,
John Behan.
Author.
Ireland.
Books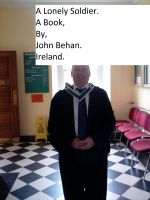 A Lonely Soldier
by

John Behan
A story of the Rhodesian civil war based on the experiences of a man who fought and lost. Never again was life the same for Noel, nor could it be. John Behan. Author. Dublin. Ireland. January 2014.
John Behan's tag cloud