Johnny Ethanol
Biography
I was born a genius kid, with an eidetic memory, but I had a rather tough childhood; my father was a lifelong pedophile. Needless to say, repressing memories when you can remember everything was quite difficult. I spend most of my life as a drunken stoner, and an underachiever. I have always been able to find simple solutions to complex problems, and that is what I have done with alternative energy. I believe that I can provide a substantial contribution to the single greatest problem, facing us all. With your help, I can provide a significant solution to biofuel production, as well as, a far more efficient means of consuming fuel, in the future. We are not moving forward, toward a cleaner future fast enough, and I do believe that we all may pay a high price, for our collective arrogance. This story should alarm you, and get you to think about our future. I thank you for reading this bio, and for those of you who support my endeavor, let's make this happen, aand for now,it's Johnny Ethanol.
Books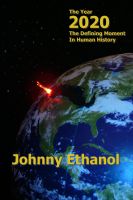 The Year, 2020: The Defining Moment In Human History
by

Johnny Ethanol
I'm an inventor, with 2 high-mileage, biofuel vaporizors, and numerous ideas, but no cash. I tell the story of Johnny Ethanol's 30 year endeavor, crafting one invention, after another, achieving energy independence, for us all, as mankind "goes dark," with war, terrorism, violence, mass destruction, and an arrogant disregard for our fragile existence. These two worlds collide, in the year, 2020.
Johnny Ethanol's tag cloud