Jole Monette
Biography
Jole' was born in Los Angeles, California to a dentist and a homemaker. As a kid, she used to dabble in all types of artistic activities, but found that she loved writing the best. She obtained her Bachelor's degree in Communications and was Features Editor of the University's newspaper and Copy Editor of the campus magazine. After a chance meeting with the Editor of Right On!, a New York based urban magazine, she was hired as a contributing writer. That led to writing assignments for Sister to Sister and Sisters in Style magazines where she wrote feature articles as well as interviewed various music artists. She also produced a LA based cable program called African Beat which featured education on Africa and artists from that region. Love for the Joneses was conceived to portray young, middle class African-Americans in a more accurate way than the mainstream media does. Rather than perpetual stereotypes, LFJ more accurately depicts family values, relationships and religious faith in our generation. Los Angeles was the obvious choice for the setting because of its familiarity and cosmopolitan qualities central to the characters and vibe of the story. Besides writing, Jole' has been involved with various causes that are important and close to her heart. The Boys and Girls Clubs of America, the United Way of the Inland Valleys, Project Sister (a temporary housing facility for women and children), and Wings of an Eagle, an organization that assists women and children in need in Nigeria, West Africa. She was also a mentor for the YWCA, coaching Junior High School students in career planning and life management skills such as creating good study habits, handling peer pressure, and interacting with parents.
Books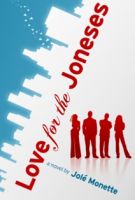 Love for the Joneses
by

Jole Monette
Four successful siblings in Los Angeles search for answers to their relationship dilemmas in this contemporary novel that implores romance, humor, and wit to create an exciting exploration of love in the city.
Jole Monette's tag cloud