Jonathan Ames
Biography
JONATHAN AMES is the author of the novels You Were Never Really Here (recently adapted into a film starring Joaquin Phoenix), Wake Up, Sir!, The Extra Man, and I Pass Like Night; a graphic novel, The Alcoholic (with artwork by Dean Haspiel); and the essay collections The Double Life Is Twice as Good, I Love You More Than You Know, My Less Than Secret Life, and What's Not to Love?. He is the editor of Sexual Metamorphosis: An Anthology of Transsexual Memoirs and the winner of a Guggenheim Fellowship. He is also the creator of the TV series Bored to Death (HBO) and Blunt Talk (Starz).
Books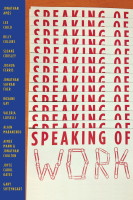 Speaking of Work: A Story of Love, Suspense and Paperclips
by

Bernard Schwartz

(editor),

Jonathan Ames

,

Lee Child

,

Billy Collins

,

Jonathan Coulton

,

Sloane Crosley

,

Joshua Ferris

,

Jonathan Safran Foer

,

Roxane Gay

,

Valeria Luiselli

,

Alain Mabanckou

,

Aimee Mann

,

Joyce Carol Oates

, &

Gary Shteyngart
In Speaking of Work, part of Project: SET THE PAGE FREE, thirteen writers and creative minds come together to tell the ultimate story of the modern workplace. These authors, poets, and singer-songwriters give us a guided tour of the places that inspire them. There's mystery here. Dark confessions. Tales of deals made, careers built and broken, and the love and dread and hope of being at work.
Jonathan Ames' tag cloud