David Jones
Biography
David is a practicing litigation attorney in Texas. Some of his work, both fiction and non-fiction, can be found in the South Western Reporter (3rd), resulting in several successful appellate decisions. He resides outside of Dallas with his beautiful wife, Shannon and precocious twin daughters.
Books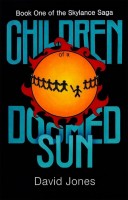 Children of a Doomed Sun
by

David Jones
Quinn Sanders is plucked from his perfect life by an advanced and mysterious alien race and taken 30,000 light years away to learn to cultivate an unknown mental power called the Focus. He must evade ancient war machines and hostile aliens as he learns of his hosts' horrifying secret, a secret that threatens the very existence of the Earth.
David Jones' tag cloud