Joongbu University Press
Biography
Joongbu Daehakgyo is a small university of about 7,000 students located south of Daejeon, South Korea. Joongbu will open a second campus in Goyang city in March of 2015. Students come from a wide variety of academic and professional majors, including early childhood education, traditional medicine, elderly welfare, engineering, police & security, animation, and many others. All students are required to attend four semesters of English instruction.
Where to find Joongbu University Press online
Books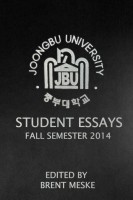 Joongbu Student Essays
by

Joongbu University Press
The assignment for the sophomore students was to write a persuasive essay of 600-1000 words with a partner. That of the four freshmen students was an informative essay of the same length. Topics were suggested, but negotiable. For nearly all of these students, it was their first time to write an essay in English.
Joongbu University Press' tag cloud