Joseph Jones, PhD
Biography
Joseph R. Jones, PhD is a former high school English teacher. His PhD is from The University of Rochester (Rochester, NY) and examined teachers' perceptions of homophobia through a collaborative professional development program. Presently, he teaches in the School of Teacher Education and Leadership at Radford University (Radford, VA). He has presented numerous presentations at international, national, regional, state and local venues, and has published in peer-reviewed and non-peer reviewed publications about bullying and tolerance. He has coined two terms for his academic community: contextual oppositions and "un"normalizing education. Additionally, he is the executive producer for a documentary film, "Beyond the Silence." This film explores the problem of homophobic bullying in educational environments. He has appeared on "With Good Reason," as well as "What It Takes…To End Bullying," a televised show from a PBS affiliate.
Where to find Joseph Jones, PhD online
Books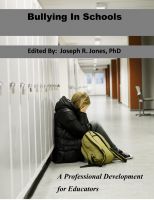 Bullying In Schools: A Professional Development for Educators
by

Joseph Jones, PhD
Bullying in Schools: A Professional Development for Educators examines the impact of bullying on K-12 schools and communities. The chapters of the book are written by students, parents, teachers, administrators and community members; thus, the book provides real discussions surrounding the problem of bullying.
Joseph Jones, PhD's tag cloud