Joseph Mays
Biography
Joseph Mays is a prisoner in the federal prison system. He grew up in Roanoke, Virginia in a railroad town/city. He grew fond of trains and NASCAR auto racing at an early age. He graduated high school in 1982 and went into the United States Marine Corps after high school. He left the Marine Corps in 1990 and, after a few years, got a job with the US Postal Service in 1994. Things were okay until 1997. Time went by and then he encountered another set of setbacks; September 11, 2001 and the anthrax attacks, which affected the processing and distribution center where he worked. He faced a lot of problems and struggled with mental illness. He sought help and fared well until 2008. Then things went south again and stress mounted until it culminated in March 2009 with a terrible tragedy. He began his prison/jail term that same month and has been down ever since. He fought his way back from three years of depression and 20 months of writer's block that ended in 2012. He wants the world to know that he would give anything to change that day in 2009 to a more positive outcome. He helped people on the outside and never gave up that character trait in prison and does even more on the inside. Ironically, prior to coming in, he wanted to help people get their records expunged to help with job possibilities and ended up in prison himself. Now he provides resources to people at his correctional facility and writes poetry, like those in this book, to inspire and motivate people and touch the hearts and minds of people all over the world. He dreams of the day he can wake up and an alternate, more positive outcome (in 2009) could be realized. But he knows, unfortunately, that it (dream) will never be and proudly accepts the opportunity to reach out and touch you – the reader.
Books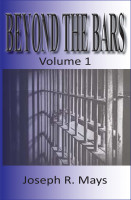 Beyond The Bars
by

Joseph Mays
Price:
$2.99 USD.
Words: 7,260.
Language: English.
Published: September 5, 2017
. Categories:
Fiction
»
Poetry
»
Biography
"Beyond the Bars" is a motivational and inspirational collection of poetry written by a prisoner for all prisoners. Sometimes we (prisoners) feel hopeless behind the bars. This collection covers the gamut of different situations faced by prisoners every day. Some good, some bad. But "Beyond the Bars" lets prisoners know that there can be hope, if they just seek it out.
Joseph Mays' tag cloud