Joseph Gatrell
Biography
Joseph Thomas Gatrell was born in Blue Island, Illinois and grew up there. With the exception of brief educational stops in Rock Island, IL and Valley City, North Dakota, he has lived and learned in the Chicago area. Joseph makes no excuses for residing in Cook County, which is possibly the most expensive and corrupt govern-mental district not in the Third World. "Unless you're a Cubs fan, if you live here, you don't have regrets, make excuses, or give up hope. You gripe, but you adapt and become stronger and more savvy or else. Blue Island has helped me in this. The community provides peace and sanity in a world that often seems violent and crazy." Joseph certainly has no regrets about his many great careers and the experiences he has enjoyed which include teacher, coach, and journalist. Among his current interests are reading, writing, dog walking, and distance running. "If you get up every day with energy and passion, have a great conversation with someone, learn something, or write something, that's a great day." Some of the knowledge that Joseph is trying to acquire is why he has fears of relationships and travel. Since he lost his best friend Lefty in a bizarre traffic accident in 2009, he also hopes to discover how to connect with the spirit world.
Where to buy in print
Books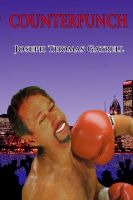 Counterpunch
by

Joseph Gatrell
What is Mr. Clean doing in the dirty sport of boxing? That's what Dominic's self-absorbed friends might have asked if they weren't caught up in their own dramas. What no one knows is that rock-solid Dominic has a painful secret, a terrible riddle to solve, and if he can't, the mystery might completely gnaw away his soul.
Joseph Gatrell's tag cloud