JosephineYoong
Biography
Josephine Yoong is a qualified accountant, a passionate entrepreneur and a dedicated philanthropist with a focus on children's moral education.

A woman extraordinaire, Josephine maintains a fine balance as a loving mother of her three children, running several businesses and being active in the women's entrepreneur movement. She is also passionate about imparting the right values and living skills to children.

She strongly believes that education on integrity should be started young and accordingly authored her first book for young children entitled "Timmy Tapir learns to Do What's Right!" This book takes children on a journey with a tapir – an animal, chosen for its distinctive black and white body; representing undesirable and the right values respectively. It is well received by parents. The book has been published in three languages and distributed widely.
The book attracted wide acclaim leading to Josephine being invited to speak to parents and their young children in schools and other functions. It was so impactful that a few kindergartens have adopted it as part of its curriculum.
The value of integrity resonated with corporations who invited Josephine as a guest speaker. Ultimately, the global forum of TEDx included her on a panel of speakers to disseminate the importance of integrity.
Currently she is working with a group in Kuala Lumpur, Malaysia to develop a series of financial education curriculum for children, assimilating the principles of integrity and characters from her book. The objective is to address the lack of financial education that have resulted in the problem of high debt for youth, particularly those in their 20s. This subject will be promoted in schools nationally and internationally.
Josephine is involved in the organization of events for the community of the disadvantaged together with several volunteers. She is still serving as a committee member of the Special Children's Centre for children who are mentally and physically challenged.
In the women's arena, Josephine pioneered the establishment of a women entrepreneur's organization called Women bizSENSE in 2006. Activities are centred around the 5 pillars of its name, SENSE representing Support, Education (nurturing entrepreneurial skills), Networking, Social responsibility (supporting community work which directly benefit disadvantaged women and children from the hard core poor as well as children with special needs) and Entrepreneurship (featuring sharing by successful women entrepreneurs who share their success strategies and challenges).

Presently, she is the owner of a bookstore specializing in children educational toys/ resources "Precious Ones Collections" and a book retail shop/publishing house "Precious Pages Resources." To-date, she has published 13 books for both local and international authors. There are five additional publications in the pipeline.

Despite an extremely busy schedule, she is a caring and passionate philanthropist at heart. She always allocates time to help to improve the lives of the children and the socially disadvantaged – a true gem of our society.
Books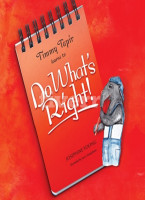 Do What's Right
by

JosephineYoong
This book teaches children what's right and wrong. The principles and examples of integrity need to be taught to children whilst they are still young. By reading this book and explaining the morals behind each story, the parents would instil the right values to their children. This book is fun and engages the children.
JosephineYoong's tag cloud