J. W. West
Biography
Reading, writing, and family are the things that drive me. I have had a lot of different perspectives on the world from many different points of view. My imagination is something of your wildest dreams. I get my inspiration from everything around me, even my wild dreams. I have turned my passion from when I was a child daydreaming about the many fantasies I could create into actual reality. Words on a page you can read and enjoy.

I went a lot of years not knowing what my calling was and working different ends of the jobs spectrum. I finally had a friend push me into writing with the phrase "You need to let all of that **** out and not keep it in, if you hold all that in you'll get cancer! That is how people get cancer!" That stuck to me like fire on kindle and I decided to write. Through Their Eyes is the product of my painful past brought to light in a completely different way. In fiction which was hard to write and even harder to share with the world. My imagination has always been extremely wild and uncontrollable. Now I'm using it to my advantage (hopefully) and sharing it with the world.

I am an indie author in the true extent. The day I realized I should write I knew it wasn't going to be easy. I believe we all have a different magic inside of us and when we have a gift we must share it with the world. That is exactly what I'm doing through my writing. My books and stories will evolve with me and I will always share my vision with my readers.
Books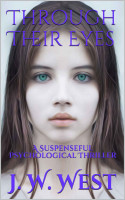 Through Their Eyes
by

J. W. West
I created a book where you actually live in the moment, in that character. You see what they see, smell what they smell, and hear what they think. You will live these moments and share the experiences of Jessica, Amber, and Hector between the covers of this book. I ask you to take a journey and live the emotions of these people and their hardships.
J. W. West's tag cloud