Josie Dovidio
Biography
Josie Dovidio, DDS is a busy mom of two who, since her son's diagnosis of Asperger's syndrome, has become passionate about learning all she can about living a simpler, more natural lifestyle. She enjoys converting her favorite recipes into gluten-free, dairy free masterpieces and makes nutritionally impactful recipes from real food to nourish her family. She loves reading, learning, writing and experiences indescribable joy from helping other moms with special needs kids. She juggles her time between studying God's Word, being a wife, a cub scout and soccer mom, and her job as a Family Dentist in Simi Valley, California. When a free moment arises, Dr. Dovidio blogs at www.SharingMom.com about faith, recipes and how to use nutrition to help children on the Autism Spectrum.
Where to find Josie Dovidio online
Books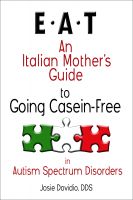 E.A.T. An Italian Mother's Guide to Going Casein-free in Autism Spectrum Disorders
by

Josie Dovidio
If your child is on the autistic spectrum and you are considering a casein-free diet, this is the book for you. Sharing her experience with the diet, the author takes a complicated subject and simplifies it by explaining the theory behind the casein-free diet as well as outlining what you need to know to implement it. Recipes and nutritional supplementation information are included.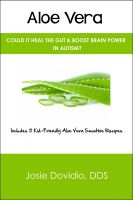 Aloe Vera: Could It Heal the Gut & Boost Brain Power in Autism?
by

Josie Dovidio
The medicinal potential of aloe vera is astounding! Yet most people only know that aloe gel can be used topically for sunburns. For over 5000 years aloe vera has been used therapeutically as an external and internal remedy. This book will explore how this powerhouse plant could aid in healing the digestive tract, strengthening the immune system and boosting brain power in children with Autism.
Josie Dovidio's tag cloud