Juan Fernando Ortega Pacheco
Biography
Juan Fernando Ortega Pacheco, nacido en Santiago de Chile el 6 de marzo de 1955, es profesor de Estado de Historia y Geografía, licenciado en Historia, magister en Historia de América y doctor en Educación. Se ha desempeñado como rector y vicerrector en tres instituciones de educación superior y como director de programas de magister. Ha participado en la fundación de establecimientos de educación superior en Santiago y La Serena.
_

Juan Fernando Ortega Pacheco, born in Santiago de Chile on March 6, 1955, is a State professor of History and Geography, with a degree in History, a Masters in History of America and a PhD in Education. He has served as rector and vice rector in three institutions of higher education and as director of magister programs. He has participated in the foundation of higher education establishments in Santiago and La Serena.
Books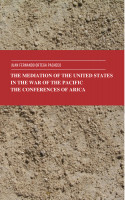 The Mediation of the United States in the War of the Pacific. The Conferences of Arica.
by

Juan Fernando Ortega Pacheco
This book analyzes the military political situation of the countries involved in the war of the Pacific and the mediating role of the United States.
La mediación de Estados Unidos en la guerra del Pacífico - Las Conferencias de Arica
by

Juan Fernando Ortega Pacheco
Este libro analiza la situación político militar de los países involucrados en la guerra del Pacífico y el rol mediador de los Estados Unidos.
Juan Fernando Ortega Pacheco's tag cloud