Julia Bresse
Biography
It is amazing that I can put to pen whole stories, yet struggle with writing about myself. I am an avid reader and daydreamer and am happiest when I can lose myself in a story. I grew up reading books by Carolyn Keene, Judy Blume and Laura Ingalls Wilder.

By day I work in human resources, shuffle kids to activities and pretend to work out on a regular basis. By night, or whenever I find 10 free minutes, I write.
Books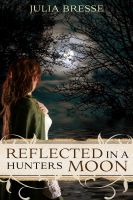 Reflected in a Hunters Moon
by

Julia Bresse
In 2007, Meghan Lancaster is the antithesis of excitement. Until she finds herself transported back in time to 1858 and caught up in a dispute between a southern landowner and Henry Worthington. With her life splintered between two centuries and conflicted by her growing attraction to Henry, Meghan must choose between her placid past 2007 and an unknown future in 1858 at the brink of civil war.
Julia Bresse's tag cloud