Julie Collins
Biography
Julie grew up, with her identical twin sister, Miki Collins, in the vast, roadless wilderness north of Denali National Park in Alaska, spending their childhood in a community of roughly thirty people scattered around the shores of a large lake. After seven years of correspondence home schooling, the twin sisters attended high school and college in Fairbanks, studying biology and journalism at the University of Alaska. Then they returned to their family's homestead, where they continue to live a traditional Bush lifestyle, trapping for fur, hunting for meat, fishing, and growing their own produce. Julie ran the 1,000-mile Yukon Quest, and the sisters bought their first Icelandic horse, Lilja, in 1986.
Books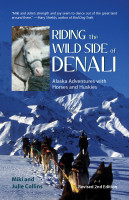 Riding the Wild Side of Denali: Alaska Adventures with Horses and Huskies (Rev. 2nd Edition)
by

Miki Collins

&

Julie Collins
Identical twins Miki and Julie Collins trap, hunt, fish, and garden in Alaska's wilderness just north of Denali National Park in Alaska's vast interior. Their closest companions are loyal sled dogs and Icelandic horses. Theirs is an unusual lifestyle even by Alaska standards. In this revised second edition, the sisters share what has happened in their lives in the past twenty-five years.
Julie Collins' tag cloud