Julie Romero
Biography
Julie Church-Romero was born in the San Fernando Valley of Southern
California and developed a love for reading at an early age. After
becoming a manicurist out of high school, Julie entertained her
coworkers by writing comical poems and funny stories in between seeing
clients. They became so popular she found herself writing them once
she got home. Being the daughter and sister of writers, her family
encouraged the budding creativity. After publishing several short
stories, Julie took a long lived position at a teen magazine
publishing company. It was during these years she met and married her
best friend, Kyle. Several years after marriage, Julie began taking
evening college writing classes. Once again she began filling
notebooks with stories and historical research for long ago events
that fascinated her. At Christmas one year, Kyle surprised her with a
laptop computer. Not knowing anything about technology, she stared at
him dumbfounded, the half unwrapped box still in her lap. Kyle
explained it was for the book she would write one day. And she did.

A lover of American history and her family's Denver Colorado roots led
her to write A Soldier's Embrace, her first published novel. Now a
medical secretary, she is currently working on her second novel. She
and Kyle currently reside in San Diego, California.
Books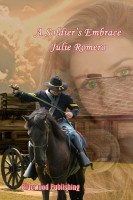 A Soldier's Embrace
by

Julie Romero
Kidnapped, Elizabeth Davenport escapes her captors, only to find her heart stolen by the dashing Officer who rescued her. She wants to leave, but not her Lieutenant Ryan. Lieutenant Eric Ryan fails at nothing, except romance. Determined not to break her heart, he pushes her toward another. As Eric's desire grows, he soon realises that falling in love could be dangerous for them both.
Julie Romero's tag cloud