Jean Marano
Biography
Jean Marano was born in 1915 in New York City to Italian immigrant parents. After high school, she worked several years as a dressmaker. She has always loved animals and had a magical ability growing flowers. She has lived in Danvers, Massachusetts for the last 40 years, where she has won several contests for her character doll creations, such as Popeye and Mother Goose. Now 96, she is too old to sew and garden, but clearly recalls her memories of Jumbo. Daughter Lydia, who grew up with Jumbo in the 1950s, is currently an artist and science fiction writer living in California.
Books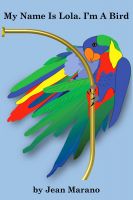 My Name is Lola. I'm a Bird.
by

Jean Marano
In the early 1900's, father brought home a pet parrot for his five daughters. This book describes the fun that the family had with the bird who could talk in both English and Spanish. On the first day, the five girls gathered around the parrot to decide on a name. After several suggestions, the bird spoke up "My Name is Lola. I'm a bird." Hence the name of the book and the first funny story.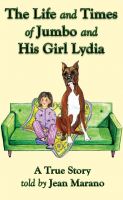 The Life and Times of Jumbo and his Girl Lydia
by

Jean Marano
Jean Marano remembers for our reading delight the runt of the mixed Boxer/Great Dane litter she brought home in a shoebox to live with Dad, Mom and to grow up with baby daughter Lydia. These charming stories will engage readers of all ages as we follow the antics and adventures of Jumbo, Possibly the Smartest Dog Who Ever Lived, and his toddler best friend, recalled with love and good humor.
Jean Marano's tag cloud