Nicholas Kaloki
Biography
Nicholas Kaloki's book is written by a specialist in Children and Gender issues. He has a wide field experience as a secondary school teacher in several girls' secondary schools, as well as hundreds of talks, discussions and lectures to the youth, locally and abroad, on the subject. He is a visiting counsellor to leading Girls' Schools, and interacts with hospitals and the criminal justice system of Kenya in pursuit of justice for girls defiled or raped, while working for the Children's Department.
Books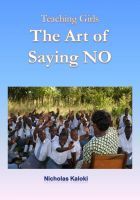 The Art of Saying No
by

Nicholas Kaloki
A man whose sexual overtures are rejected may be inclined to behave in an anti- social manner because in human relations, rejection is very painful. Hell has no fury than a man given a No by a woman he loves. He can even kill or turn to other criminal inclinations like violence rape. Or scandalizing her name this is where saying NO to a proposal for an affair becomes an ART.
Nicholas Kaloki's tag cloud