KARIEN B. NAUDE
Biography
Karien has always had a passion for fairy tales, dragons, witches and all types of mystical beings. She also loves to sketch and combined this with her huge appetite for the mystery and fantasy of fairy tales.

Inspired by authors such as Tolkien, CS Lewis and JK Rowling she took an interest in illustrations for children. She received an illustration Diploma with Distinction at the London Art College. She also has been tutored by Mark Mithcell, an acclaimed children's illustrator in the USA.

She does most of her work digitally.
Books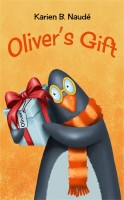 Oliver's Gift
by

KARIEN B. NAUDE
Its Oliver's birthday and he loves his gift but then a thief came in the darkness of night and stole it! Will Oliver get it back?