Keith Abraham
Keith is about delivering substance that is relative to the real world of business. He shows business people how to work smarter, engage their people, rekindle their passion and capitalise on their current market opportunities. Most importantly, his strategies are proven and have achieved some phenomenal results.

From humble beginnings, Keith climbed the ladder to head a team of 65 with a $15 million dollar budget at the tender age of 27. Over the past 16 years, Keith has built a reputation as one of Australia's most in-demand conference speakers, business growth catalysts and innovation facilitators, working directly with some of the world's leading brands like Toyota, Lexus, Asteron Insurance, HICAPS, Toshiba and NAB, to name a few. Keith has worked directly with over 265 clients and 2,500 SME's in 20 different industries and he has inspired over 300,000 people. Keith is also a Nevin Award winner, the highest honor given to a Professional Speaker in Australia and currently holds the title of Certified Speaking Professional - CSP from the National Speakers' Association – acknowledging him as one of the world's top 7% of professional speakers.

He is the founder of Passionate Tribe and believes his purpose is to leave an everlasting legacy that will make a profound difference to individual's lives. 12 months ago Keith started "Keith Blog". 4, 000 people now receive his free posts 3 times a week. He has also authored the best selling books 'Creating Loyal Profitable Customers' and 'Living Your Passion.' Keith regularly contributes to magazines and industry journals across the country, recently doing a segment on 'Grow Your Business' Fox TV.

Keith is a unique, entertaining speaker guaranteed to make an impact. He is a master at goal setting and will share with you his unique goal setting process that he has developed, tested and researched for the last 25 years. He uses every means available to make his message memorable, practical, and powerful and thought provoking for every conference delegate.
Discover your Passion
Discover your passion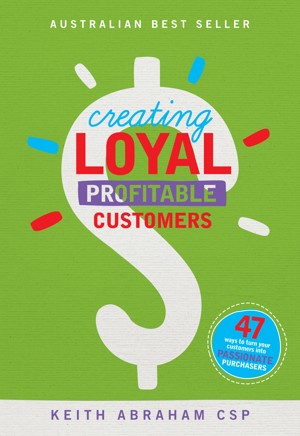 Creating Loyal Profitable Customers
by

Keith Abraham
Creating 47 ways to turn your customers into passionate purchasers KEITH ABRAHAM CERTIFIED SPEAKING PROFESSIONAL AUSTRALIAN BEST SELLER "If you don't invest time and money in yourself, you are a poor judge of a good investment"