Katie Hayoz
Biography
Katie grew up in Racine, Wisconsin where she acquired an irreversible nasal twang and an addiction for books with a slightly dark edge. She now lives in Geneva, Switzerland with her husband, two daughters, and two fuzzy cats. She has been an avid reader of YA fiction for years. While she has a penchant for the paranormal, she devours a range of books -- along with popcorn and black licorice. She consumes all three in large quantities. Luckily, the books don't stay on her hips.
Where to find Katie Hayoz online
Books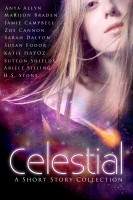 Celestial
by

Jamie Campbell

,

Anya Allyn

,

Marijon Braden

,

Zoe Cannon

,

Sarah Dalton

,

Susan Fodor

,

Katie Hayoz

,

Sutton Shields

,

Ariele Sieling

, &

H. S. Stone
Ten YA authors have come together to explore the impact the appearance of a comet can have on a life, a relationship… or an entire world.
Katie Hayoz's tag cloud