Klaus Kronenberg
Biography
Klaus J. Kronenberg was born in Solingen, Germany (Mar. 28, 1921) and died in Redlands, California (Mar. 14, 2008). The son of a musician, Klaus Kronenberg developed a love for the arts and sciences, indulging in music, visual art, and literature, and playing piano, cello, and chess.

At the age of 20, Klaus Kronenberg was drafted into the German Army, interrupting his college studies in physics and sending him to the eastern front as it advanced deep into the Soviet Union. At the Russian front, he witnessed and participated in some of the most cruel and hopeless engagements of World War II. His experiences, first during the Barbarossa advance, followed by the pivotal retreat from the outskirts of Moscow, reassignment to the Caucasus front and retreat by way of an airfield in Odessa, are documented in his memoirs "Forgive Us, Wolves!" As a foot soldier, Klaus Kronenberg came to know the Russian people and reassess the naive and patriotic views that young citizens of Hitler Germany had been taught. As a prisoner of war in Austria, he came to know and like the Americans.

Following the war, Klaus Kronenberg returned to his studies, married Hannelore Schmitz, and obtained his PhD in Physics from Göttingen University. In 1953, Klaus and Hannelore immigrated to the United States where they raised their family, two daughters and a son. From 1953 to 1963, he worked as a condensed matter physicist with the Indiana General Corporation, Magnetics Division in Valparaiso, Indiana. Together with colleagues, he investigated the material properties, crystallography, microstructures, and magnetic domains of alnico and barium ferrite magnets. This work included pioneering applications of electron microscopy and diffraction. Klaus and Hannelore were joined by professional and personal acquaintances, Rudolf Tenzer and Hans Borchert, to form a string quartet.

In 1963, Klaus Kronenberg accepted a position as an experimental physicist at the General Dynamics Corporation in Pomona, California. In 1965, he contributed to a patent for a system to probe the D-layer of the ionosphere. In 1972 to 1974, he submitted a patent and published results on magnetic bearings and levitation systems, and advocated for magnetic levitation (maglev) train technology in the U.S and Germany. He was awarded an Alexander von Humboldt Fellowship and pursued research at the Ruhr University Bochum (1973-1974). He taught physics from 1975 to 1985 as an Associate Professor of the California State Polytechnic University in Pomona, California and then took up independent consulting.

Klaus Kronenberg loved the mountains, deserts, and seashores of California. As a naturalist and member of the Sierra Club (1970-2008), he loved to wander and hike, sleep outdoors, admire wildflowers, conifers, and cactus, and gaze at the stars. He spoke German, English, Latin, Solinger Platt and Kölsch and often read late into the night. As a pianist and member of the cello section of the Claremont Symphony Orchestra (1963-2001), he played the music of Schubert, Beethoven, Bach, Chopin, Mahler, and Khachaturian. Days before he passed away, he recited the poetry of Wilhelm Busch.
Books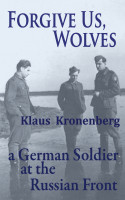 Forgive Us, Wolves
by

Klaus Kronenberg
As a German soldier during World War II, I marched to the Russian Front, a confident patriotic youth who believed in my country, family and faith. I was convinced that Communism posed a threat to the free Western World, which Germany needed to confront. My convictions did not survive the war, but they were adopted by my new country, the United States, and the Western World.
Klaus Kronenberg's tag cloud