Karen Mortier
Biography
Karen is of European and Native Canadian descent. Born in Victoria, British Columbia, she lives in Toronto, Ontario now. She has worked at various jobs including different governments, big corporations, was a used book store owner and, lastly, at a big bank. She had to retire due to poor health. She has travelled a lot and has a few more places left to visit on her bucket list. She is enjoying the "Autumn" of her life and hopes 'Winter" is a long time in coming!
Books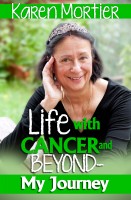 Life With Cancer and Beyond - My Journey
by

Karen Mortier
To look at me, you'd never know all of the trauma I've been through. That I am not one, not two, but three times a breast cancer survivor. That's right, – THREE times. How have I done it? Well, I have discovered a few truisms to cope day by day and I've developed some tips to help get along this "Life's Journey." If I can inspire, with hope, even one person, I will be truly happy.
Karen Mortier's tag cloud