KS Aylward
Biography
K.S. Aylward is Mum to a little 2 year old Girl and is 6 months pregnant with her second baby.
She lives in County Dublin, Ireland with her family and her crazy dog Monty.
K.S has a degree in English and History from University College Dublin and this is her first book - but it is certainly not her last.
K.S. loves reading, writing, surfing, travelling, swimming and Malteesers.
K.S. has almost completed her second book "It's all still Alien" about the experience of Motherhood once the first baby has landed.
Books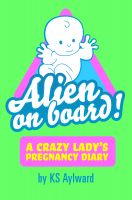 Pregnancy: Alien on Board - A Crazy Lady's Pregnancy Diary
by

KS Aylward
There have been numerous pregnancy books written, but do they ever tell how it really is? Thankfully "Alien on Board" is about to via a weekly diary of hilarious reminiscences and truthful experiences. We are on an expedition with Katrina, our heroine through the day to day occurrences, hurricane of hormones and emotions that the prospect of a new dependent brings to a settled 30-something couple.
KS Aylward's tag cloud